Reading Time:
6
minutes
I'm going to talk to you like a long, lost friend – I guess that's the easiest way to go about this.
So it's been 14 days and before that it was 501 day.
I was finishing up my first spring semester of my degree. I had signed up for three summer classes – anatomy and physiology (sections 1 and 2) and a nutrition course. I took A&P 1 and nutrition at the same time, followed by the second section of A&P for the second half of the summer. Summer classes were condensed into six-week blocks for 16 hours of class time a week. A typical semester is 13-14 weeks.
I clearly liked torture.
My professor for A&P 1 was amazing. I never thought I would like dissection, but lab quickly became my favorite part of the course. Surprisingly to me, I knew more than I thought I did about anatomy and the biomechanics of the body just from my experience lifting. I also knew more about hormones than I thought I would.
Nutrition was my favorite class out of all three though. It solidified what I knew about nutrition – not just from a clinical standpoint, but also figuring out what works for an individual.
I think that's the messy part about nutrition – there's the clinical side of things and then there's reality. You can tell someone that "healthfully" they "should" consume around 40-65% of their calories from carbohydrates, but that may not be the most helpful nutrient ratio for them. A woman with PCOS or an underactive thyroid may see fat loss progress and weight maintenance by consuming moderate protein, moderate carbohydrates and slightly higher fats because her body can't break down and utilize carbohydrates the same as an optimally functioning body.
Anyway, I digress.
I found my footing in the fall when I took a global health course. The book, the class – opened my eyes to what I really wanted for my career.
I say I was pushed to coach by those on social media asking for my help. I pushed myself into my education so I would have a better foundation of biological and health sciences to support the people I wanted to help. Global health opened my eyes to reconsider what it meant to set a goal and accomplish it.
There's a psychological concept called Maslow's hierarchy of needs. It's a pyramid with the most important necessity at the bottom because that's the foundation (go figure). As we go up the pyramid, the need is less important.
The most basic needs are physiological – food, water, warmth and rest. The least important needs are self-actualization – achieving one's full potential, being creative, etc. Now I know that most do have basic needs met, but it's not black or white – there are also shades of gray like a college student.
I mash up this concept with the stages of change model, which asks are you ready for change? How long have you been thinking about change? Maybe you're only think about change, but you're not ready to act on it. I've actually talked about this here.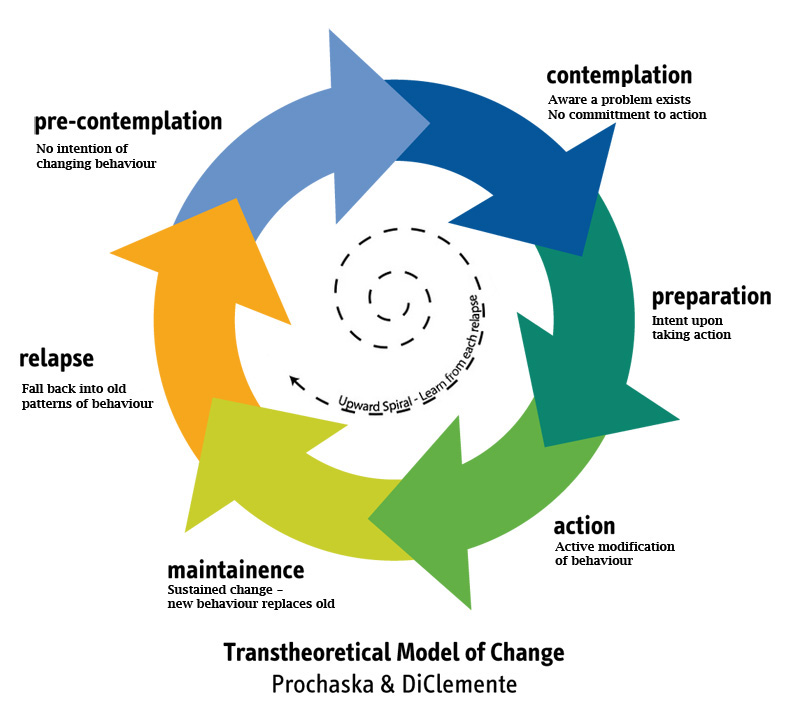 When we mash these two ideas together, the question isn't how bad do you want the change, it's what does your environment look like to support the changes that you want and do you feel like your capable of making change in this environment?
So, while many coaches and trainers look only at self-actualization, I'm attempting to look at the whole pyramid – actually, that's what ACE says a health coach does and that's what I've been doing for the past two years.
This is super validating because this is why I picked public health. It looked at us as whole people not just someone trying to lose weight or someone wanting to eat better.
So this mash up of ideas has made me shift to looking at the access people have in their environment so that they can make changes appropriate for them to be successful in their goals. So, in coaching, I'm being even more thorough when talking to clients about what they have in their environment. Outside of coaching, I know that I want to work within my community to help others and my current role is helping me do that – but work is another post.
In the fall I was invited to join the general honor society, Phi Theta Kappa and the psychology honor society, Psi Beta, which I did because while I'm not traditional student age, neither were many of my classmates. It was also an opportunity to volunteer and give back, make connections and pivot into a new career. I found being a part of PTK to be rewarding and a pillar that kept me grounded.
In December I interviewed for two internships because I had to do a fieldwork placement. I got offers from both and decided to work with a local non-profit because I knew I would have opportunities to get involved with program design and health communication strategies in a way that would help me use my current skills, but also develop new ones.
I started in January and I've been helping them ever since – even post-graduation.
In the spring, I took two lab intensive classes – chemistry and medical microbiology. I found myself to be the only non-nursing or dental hygiene student in these classes. I never thought that I would enjoy learning how to grow bacteria.
Med micro challenged me to learn in a different way. Our professor would give us case studies of patients with symptoms and we would have to diagnose the disease and provide treatment options. I don't want to touch a patient, but this style of learning helped me think on my feet and consider how we treat symptoms over the actual cause…
Honestly, seeing the number of symptoms that overlap with disease also opened my eye to how we talk about our behavior. Are you eating because your hungry or because you're stressed out? If you're eating because you're stressed the answer isn't to be more strict with your plan, but to figure out the source of the stress. Treat the cause not the symptom.
I graduated in May with highest honors and I was shocked. I had worked so hard in all of my classes and felt that I truly earned my grades, but I still couldn't believe I did this. Twenty-two-year-old Cristina would have her mouth wide open because science wasn't her thing, but the connection of communication and language to our behavior and the science behind it all – that is my thing.
So, in human ecology – the only lab science I took during my bachelor's program – I learned that we were made up of the same stuff that stars are made of – that's all I remember.
In medical microbiology, I learned that bleach is the best cleaning agent for the most kinds of bacteria. In chemistry, I learned that protein denatures at very high temperatures that won't be accomplished in a typical oven, so I will continue to add protein powder to my baking as necessary. In nutrition I learned that carbohydrates break down faster than protein, which breaks down faster than fats because of their molecular composition, which explained a lot and made it a lot easier to find foods that keep me and my clients satisfied longer.
Overall, it was reinforced that education is the foundation for us to be able to make healthy choices. We need to be given the tools so that we can question information appropriately.
We should be curious and be willing to be perpetual students.
Thinking back I knew I loved what I believed public health to be – the marriage of sociology, psychology and science.
As a student I learned that it was "science and art of preventing disease, prolonging life and promoting human health through organized efforts and informed choices of society, organizations, public and private, communities and individuals."
And now, I know it's everything I needed to take the next steps.
<3 Cristina